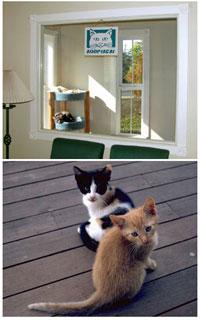 Benicia Cat Clinic started a cat adoption center in 1995. So far we have placed over 100 cats into your homes.
The program works like this: As space permits, we will accept adoptable cats from our clients. They are FeLV-screened and brought up-to-date on FVRCP and Rabies Vaccines (if old enough). If you are presenting the feline for adoption, we ask that you incur the out-of-pocket expenses for the FeLV screen and vaccines.
If you are adopting a cat, we ask for a $100.00 adoption fee that goes directly into BEN'S FUND, a separate account earmarked for stray, injured felines that are brought to us. We encourage you to call us if you are looking to either place a cat or adopt one.