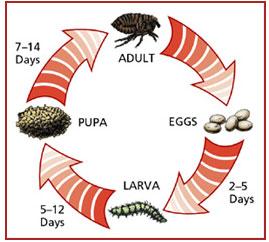 We all know how most cats dislike flea sprays, powders and dips. Veterinarians can offer their clients some alternatives. Advantage appears to be very safe and effective as well as user friendly.
Advantage works directly against the adult flea and is applied to the skin over a small area behind the head and neck region.  Advantage only has to be used once a month, working very quickly within a 24-48 hour period to rid the cat of fleas. This product should be considered for those cats who suffer from flea allergic dermatitis and need quick relief from fleas, but it should not be viewed as a total flea control measure for your home. It is a flea adulticidal product only.
Due to a growing concern over the potential emergence of heartworm disease in the cat as well as the dog, we are encouraging heartworm prevention in both species. Advantage Multi, the newest addition to the Advantage product line, offers such protection.
And for the occasional feline objecting to the smell or tactile sensation of Advantage, we now have another topical flea control product called Vectra that appears to be very safe and effective.